See all projects
Research Paper on Anesthesia
Andrew
Andrew is a 16 year-old high schooler from Northport, New York.
High School
Northport High School
Student review
Though there were various strong points to the program, my relationship with my mentor was the most valuable part. The one-on-one aspect to Polygence allowed me to develop a relationship with my mentor, and learn much through an interactive, fun conversation as opposed to a classroom lecture, which wouldn't have been nearly as beneficial. My mentor answered all of my questions in great detail, and led me through my research every step of the way. This made my project with Polygence very enjoyable and interactive. Polygence was a fantastic program, and I would definitely recommend it to anyone interested in conducting a college-level research project with help from a mentor.
Project description
Andrew tackled the effects and uses of specific analgesics in common medical procedures. Nearly every person goes through some moment in their life where anesthetics are used. Though there are infinite scenarios where these treatments are employed, Andrew's project focused on specific scenarios, such as giving birth or wisdom tooth removal. Each scenario was described in the form of a vignette which contained the procedures—how they were monitored as well as the recovery—using a hypothetical third-person perspective to explain the lesson.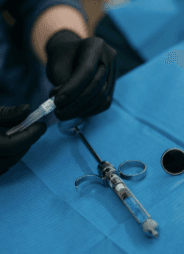 Chloe
MD/PhD Doctor of Medicine and of Philosophy candidate
Subjects
Medicine, Neuroscience
Expertise
Biology, Virology, Medicine, Health, Infectious Disease, Covid-19, Immunology, Anatomy, Addiction, Opioid Epidemic, Neuroscience, Animal Behavior, Psychiatry, any additional topic within health/medicine.
Interested in starting
your own project?
Apply today!
By registering you agree to our terms of use and privacy policy, and consent that we or our partner provider may reach out to you using a system that can auto-dial.