Yardena Rubin is a student at Columbia University studying sustainable development and ethics. She's always had a love for environmental science and hopes to eventually work in environmental policy-making. In this conversation with Howard Hsu, Yardena talks about her experience doing a Polygence project and her research on invasive iguanas in South Florida.
Get to know Yardena
What's your background?
My name is Yardena Rubin. I'm from Fort Lauderdale, Florida, and I am currently in New York at Columbia University, studying sustainable development and ethics. I've always had a love for environmental science and a love for nature.
What do you plan to do with that interest once you graduate?
There are a few options that I'm thinking about. One is either I'm going to get my masters in environmental engineering or go and get a law degree in environmental law, and I hope to do some work eventually in environmental policy.
Yardena's Experience with Polygence
Do you remember when you first learned about the Polygence program?
Yeah so I had a family friend who was currently doing a Polygence project, and he highly recommended it. I really felt that in my high school, I wasn't challenged to find something that I was really passionate about and wanted to learn about, so once I found out what Polygence was I was like, "this is a great opportunity for me to truly explore my interest." I had taken an AP environmental science class in high school, and I loved it, but there was no teaching beyond that level of learning, and I really wanted to expose myself to that. So that was when I decided that I really wanted to do a Polygence project. I started thinking of an idea, eventually applied, and from then it flourished into an amazing project.
Tell us a bit more about your project!
I wrote a research paper, and it's on the environmental and economic impacts that an invasive species has in South Florida. I kind of had an idea when I first went into it that I wanted to do something about the environment, and then I thought, "what's a pressing issue in South Florida that people aren't talking about?" I did some preliminary research and I found out that invasive species were causing a lot of harm. And so I went into my first meeting with my mentor Malia and she was an expert on invasive species and we happened to match really, really well. I told her I was interested in the environment but at the same time I wanted to look at the impact that something can have on our economy as well. So that was kind of when we came together and truly thought of the idea.
The Polygence Pathfinders Program
Pathfinders is a career discovery mentorship experience designed to help you explore different career paths and gain more clarity about your future. Learn from three world class mentors in the fields of your choice and discover your passions!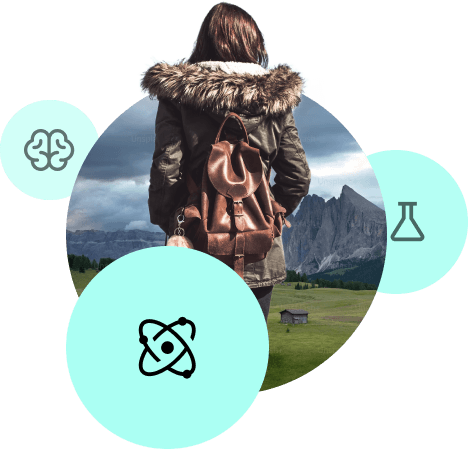 For invasive species, I looked specifically at green iguanas that are native to South American countries. I looked at how they are currently impacting infrastructure and infrastructure development in South Florida. They basically break down sea walls because they burrow to bury their eggs, and it's created between 2 and 4 million dollars of damage so far. It's going to eventually affect sea walls, dams, and bridges, so I kind of did research on how they truly impact these things. At the time when I wrote the paper, President Biden had just released the infrastructure job plan. So I went into how the plan that he created was great, as it brought millions of new jobs into the country, but also it was just focused on infrastructure development, and not how we can maintain infrastructure and keep things like invasive species from damaging it.

How many iguanas are actually causing the level of impact that you're describing?
So it's actually a very large scale. There's not a concrete number of how many there are because they're basically everywhere. And there are lots of rules of how we can or can't mitigate the species being in South Florida. And that was also a big part of my research, because there are many rules depending on what county or what city you're in as to how you can safely remove iguanas and possibly kill them the best way possible. So it's a very complicated process that I think needed to be broken down in a way that's easy to understand.
What was the final outcome of your research and what were the main takeaways? 
One of the main reasons I wrote the paper was just to bring awareness to policymakers, but also to the public. So I knew from the beginning that I wanted to get the research paper published. I got it published in the Journal of Research High School, and that was around a year-long process for publishing and getting it peer-reviewed, which honestly was very rewarding, and I really enjoyed the process working with people one on one like that. It was a great learning experience for me.
My main finding was that invasive species are a very pressing issue in South Florida, and no action is truly being done to combat the effects that we have on our environment. And so it was really just a call to action for people.
Anything else you want to mention about your project?
I also want to mention that I didn't solely focus on science in my paper. I have a really great love for photography, specifically nature photography, and I was able to use pictures that I had taken of iguanas in my paper. It was very special to me to be able to include that in my project as well.
Are you still currently working on something related to this topic?
Currently, I'm not. But it has sparked a lot of ideas for future research opportunities. And I've actually spoken to some of my college professors lately about it and we've had some really great conversations.
Great! It's so cool that you were able to do a project like this prior to college
The project was perfect timing, because I did it leading into my senior year of high school, and it set me up to learn how to truly write a research paper, and when I got to some college level classes that I ended up taking in high school it helped me understand the true research process. It's helped me so much with understanding citations and a lot of things that you don't necessarily learn through schooling. 
Was the project something you were able to feature on your college applications?
Yes, so I finished my Polygence project before I was starting to apply to college, and it was going through the review process to get published as I was applying to college. The research project was a really great tool to show I could step up and take leadership within my own community, so I definitely featured it on my college application today.  I don't think I would be where I am today without the project that I did.
Yardena's Experience with her mentor
Tell us about your mentor! How did they help you?
So my mentor was Malia. She had a lot of background and knowledge on invasive species in Alaska. She studied there for a little bit, and I think she wrote a few papers on it. So she allowed me to look at the research she did, and relate it to what I was researching, which was something that I thought was really impactful because she showed me how there were certain animals in Alaska that they needed to mitigate, and they used certain poisons to get rid of those animals. I wrote that as a counter-argument in my paper, since we can't necessarily use poisons in Florida, because it will impact too many species, not just the invasive ones. So she was great, and we would have these really amazing discussions about the true impact that my paper was going to have, and she really helped me make sure that I was on the right track the whole way. So it was very special to work with her, and even after my Polygence project was done and I was looking to get it published, she always was free to meet with me to discuss anything about the publishing process or peer review edits.
How did the experience of learning through doing the research project differ from your previous experiences in school?
A lot of the things I learned in school were pretty determined, and it was: "this is what you're gonna learn. You can ask a few questions, and that's it." I felt like the learning experience I had with Polygence truly allowed me to explore whatever I wanted, and even if it wasn't within the topic I was researching, I was able to discuss it with my mentor, and it provided me with such a great way of truly expressing my own thoughts through my learning.
Takeaways from Polygence Experience
What was the most memorable part of your experience?
I think I have 2 really memorable aspects. One was when I finally finished my research project. It wasn't easy, because it's very hard to find information, so it was definitely rewarding. It also
set me up to have a great experience in the publishing process, because I was just so confident going into it. And I had support from my mentor, so I knew I had that confidence from her also. The other memorable part was when I got my paper published. It felt like all my hard work was for something and I truly felt that it was going to make an impact
What were some of the more challenging parts of your experience?
I definitely think that preliminary research is very difficult. Before you start writing the paper, you want to make sure you have a lot of peer-reviewed articles and good information that you can use to back up your claim. The issue with my topic was that there weren't many available resources specifically about iguanas, and I really had to work hard to find them. So there was definitely a learning curve. But it was also challenging to learn how to properly write about the topic because there are so many different ways to write a paper. Sometimes it can seem like you're making a very harsh argument, and I didn't necessarily want to come off as very arrogant, just saying, "we need to change and we need to take action." 
How did the experience make you feel?
Yeah, I think Polygence truly made me feel like I could do anything I put my mind to. I had never really done a research project of this scale outside of school by myself before, so Polygence really helped me understand that I could do something on my own that was not related to school. It gave me that confidence boost I needed, because going into college I was able to have that research experience and that was definitely something that helped me through the first year of college.
What advice would you give students who are thinking about doing research as a high schooler?
I think the main piece of advice that I would give is if you are considering doing a research project, just know that you will need to be resilient. And it is gonna set you up to have such a great network of people and of resources in the future.
What advice would you have specifically for someone who's thinking about doing Polygence?
I think Polygence allows you to explore your interests and it's truly unique. I would say, go for it. There's no harm in doing it. It is really gonna help you explore. If you want to study something in college, or if it's something that you want to pursue as a hobby, a Polygence project truly helps with self-exploration and understanding your true values.
Want to start a project of your own?
Click below to get matched with one of our expert mentors who can help take your project off the ground!