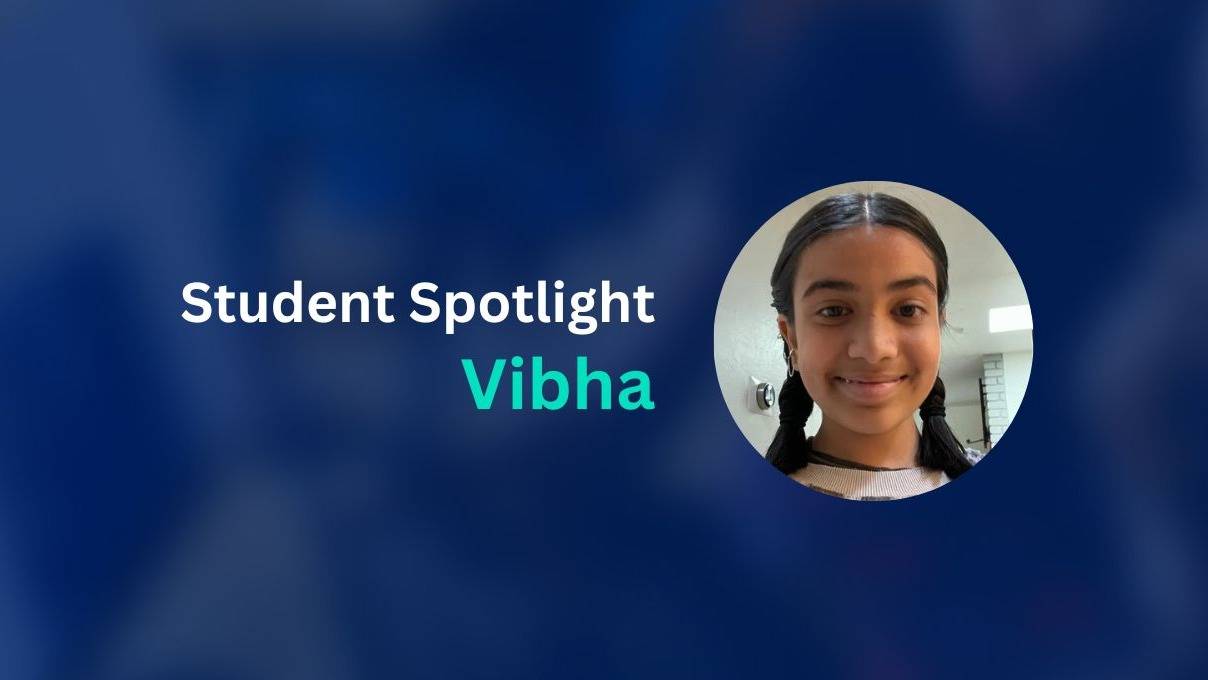 Vibha is a 9th grader at Homestead High School in Cupertino. For her Polygence project, she worked with Cheldina Dean to create SCOBY Skin, a biodegradable and sustainable alternative to traditional bandages. Read on to hear her inspiring story!
Get to Know Vibha
What is your name and what year are you?  
My name is Vibha Bengani and I'm in 9th grade. 
Create a research project tailored to your interests and your schedule
Polygence pairs you with an expert mentor in your area of passion. Together, you work to create a high quality research project that is uniquely your own. We also offer options to explore multiple topics, or to showcase your final product!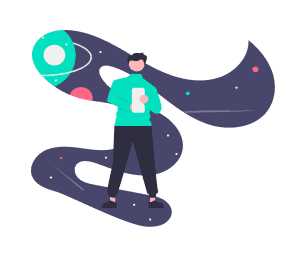 Where are you originally from and what high school did you go to?
I currently go to Homestead High School in Cupertino, California.
What is your dream?
My overall dream is to create a more sustainable world, to develop more sustainable materials and to help people to create a much smaller carbon footprint than they're currently leaving. 

How did you first learn about Polygence? 
I mainly found it through Google search. I started Polygence when I was in 8th grade - I wanted to figure out how to make good use of my free time. 
I knew I wanted to work on a project, but I wasn't sure in what form. When I found the website, I just gravitated towards the program!
Amazing! So what specifically attracted you to Polygence's research program? And did you come to it with a specific project in mind?
I found the projects section of the website. After scrolling through a number of other people's projects, I thought it would be really cool to do a project of my own.
I love science and I'm vegetarian. As part of that, I've learned the impact that behaviors like being vegetarian can have on the planet, so I came to Polygence with sustainability in mind. 
Your Project Your Schedule - Your Admissions Edge!
Register to get paired with one of our expert mentors and to get started on exploring your passions today! And give yourself the edge you need to move forward!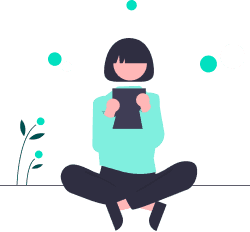 Vibha's Research Project
Ok, I'd love to hear more about what you ended up researching and creating!
I created SCOBY skin. It is a replacement for conventional bandages, mainly based on SCOBY (symbiotic culture of bacterial yeast). It's a bandage with tissue restoring abilities, and is also very eco-friendly when you throw it away.
Fascinating. You actually ended up building a prototype. Tell us a bit more about the process of actually creating that.
SCOBY is a culture that you grow over tea. It takes 3-4 weeks to grow a thin film, and I was able to dry that film. It created a flexible sticky surface, and I was able to build my bandage off of that. 
My initial approach was to email a few companies that were doing sustainable plastics. For instance, there was a company that was making them out of seaweed. However, when I didn't hear back, I knew I had to create my own. So I started looking on Amazon. I had the idea of using a compostable fruit bag. 
I thought I could cut it and use it as a hygienic film around the SCOBY. Over the SCOBY, I put 100% cotton gauze. 
And then I put a paste of aloe vera gel, coconut, and olive oil to improve the medical aspect of it. I spread this over the gauze and then used the compostable fruit bag as another layer of film over the product. 
It's really interesting how you re-purposed all these materials! In particular, the restorative abilities sound really interesting. What parts help with Tissue healing? 
In the past, people used to use Aloe Vera and Coconut Oil for their antioxidant properties, which contributes to tissue regeneration. Aloe Vera is particularly known for its moisturizing and hydrating properties in addition to being an antioxidant.

From a sustainability standpoint – what product does this replace? 
My goal was to improve on a normal bandage that you'd use for a paper cut. 
My SCOBY bandaid is easily disposable and compostable. If you throw it out into the landfill, or garden, or compost bin. It can biodegrade really easily. It's even safe for wildlife to eat. 
And it has tissue regenerative properties to it. SCOBY skin grows tissue faster.
Amazing! Are you still working on SCOBY Skin? 
Yes! I would love to pursue this more and put more research into it. In particular, how to make it more marketable. 
RIght now, I don't have proper packaging and it's not (yet) approved by the FDA!  I am planning to use it to apply it to various science fairs such as Regeneron. I think it could be a strong contender.
Near the end of my project, I asked my mentor if she had any suggestions of any other things I could work towards. She came up with a spreadsheet including Regeneron, Synopsis, and many other science fairs. These are opportunities specifically geared towardsbio-medical and environmental science projects. I'm excited to submit this there.
Vibha's Relationship with Her Mentor
I'd love to dig in more and hear about your relationship with your mentor. Who was she and how did she end up helping you?
My mentor is Cheldina. She was very helpful in the creation of SCOBY skin. She's a PhD candidate of Philosophy at Yale working on Environmental Engineering. I am very interested in Environmental science, so she was a great fit. 
Cheldina really helped me to define the scope of my project and create realistic goals. She helped me to overcome setbacks and challenges, including that time when mold started to grow on the SCOBY.
She also helped to give structure to the type of research I wanted to pursue. 
The Polygence Pathfinders Program
Pathfinders is a career discovery mentorship experience designed to help you explore different career paths and gain more clarity about your future. Learn from three world class mentors in the fields of your choice and discover your passions!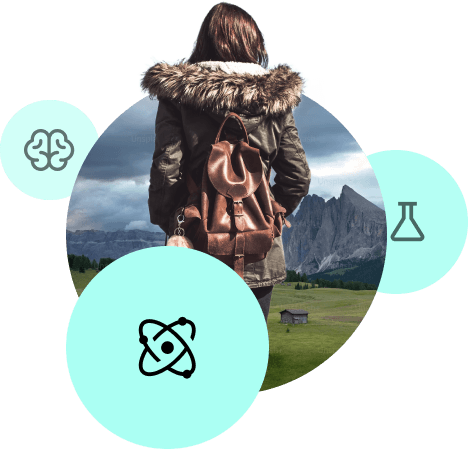 It sounds like she provided all sorts of help! Tell me more about how she helped to shape the type of research you were doing
First of all, I wasn't fully sure what the outcome would be - I had thought about a video, a written piece, but I had no idea what form it would actually take. She helped me to put the research together in a way that was beneficial. If I were to create a video, it wouldn't have had all the information I wanted in it. So she definitely helped me to clarify what I wanted the end product to be, and helped me to create the final research paper. 

Talk to me about how you and her structured your time together
We would generally start by reviewing the work since our last meeting. 
We also would take account of the setbacks and successes that occurred in the time between meetings. We would talk openly about the setbacks and brainstorm ideas for how to address those challenges for the future. 
Lastly, we used to create a task list before the next session to keep ourselves accountable to make sure that we got stuff done. 
Love the reflection you two did together. How would you say this learning experience differs from what you may have tried previously?  
The learning experience with Cheldina and Polygence was much more self-directed than anything else I've experienced at school, which I personally love. Compared with school, where you follow a lesson plan, I had the chance to think deeply about what I personally wanted to learn about. I could plan the work and structure my own deadlines. Ultimately, I was able to make my ideas come to life! My mentor was so helpful.
Vibha's Reflections and Overall Experience
What was the most memorable part of the experience?
Meeting my mentor! Seeing someone who was so driven and already working towards what they want was very eye-opening for me. Through Polygence, I achieved something that was beyond my expectations. Being able to do an entire research paper as a 13-year old is an amazing accomplishment!
Also, being exposed to the fields of biology and medicine that were needed for the project was phenomenal. 
What would you say was the most challenging part?
Growing the SCOBY. I tried at least 6 or 7 times with tea. I first created a test trial around the first session, and it worked! So we decided to use this as part of my project. 
After trying again, mold grew on it. We went through a bunch of ways to solve this problem, including doing research to find the highest acidity level (Ph) where the SCOBY could still grow, while preventing mold growth. I learned that there were a number of variables that affected mold / SCOBY growth - there was a lot of trial and error as I navigated through the scientific process!
What are 3 adjectives that would describe the way the experience made you feel 
How was Polygence different from other extracurricular options you considered? 
Currently, the extracurriculars I'm doing are focused on improving my academic standing and GPA, or cross-country running, which I also really enjoy. Polygence is much more self directed. I love that I can work on what I'm interested in. I've never done an extracurricular activity that helped me to pursue my own interests the way this did. 
That's what we strive for. Vibha, we're all wishing you the best of luck! What advice would you give to those who want to do a research project?
Anyone who wants to do a research project, should 100% go for it. They can build exactly what they're curious about learning. It's a great experience learning to understand previous research and to identify proper, well-written work by other scholars. It's just a great experience overall.  
What advice would you offer to any high schooler thinking of joining Polygence?
The project itself is a very mind-boggling experience. You can make your own lesson plans, and dictate your own schedule, while the Polygence app keeps you accountable for due dates. 
In general, I would recommend that Polygence students should really lean on their mentor for advice! I found my mentor's advice, in particular her thoughts on how to approach other scholars' existing research, to be so useful. It was wonderful having a different perspective guiding me along the way. 
Want to start a project of your own?
Click below to get matched with one of our expert mentors who can help take your project off the ground!