Go to Polygence Scholars page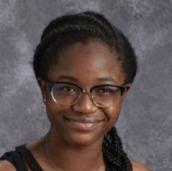 Ebubechukwu Abolo
Klein Collins High SchoolClass of 2024Houston, TX, Texas
About
Projects
"What is the likelihood of developing ASD as a result of sleep disruption during gestation compared to sleep disruption during early life in ASD model mice?"

with mentor Sean (June 8, 2023)
Ebubechukwu's Symposium Presentation
Project Portfolio
What is the likelihood of developing ASD as a result of sleep disruption during gestation compared to sleep disruption during early life in ASD model mice?
Started May 16, 2022
Abstract or project description
The changes sleep undergoes during early life offers the conclusion that sleep, particularly during early life, is intertwined with the development of the brain. Sleep disruption can emerge as a consequence of ASD (autism spectrum disorder) and can cause long-term differences in the way the brain functions and the expression of behaviors. During the third week of gestation neurons and glia, two cell types that are integral to the creation of the nervous system, begin to form. Less than adequate sleep during the first trimester of pregnancy (less than 5 hours per night) can increase the risk of preeclampsia and eclampsia arising as a complication of pregnancy during the third trimester, which can lead to numerous developmental issues in the long-term. Here I investigated the effects of frequent sleep disruption in pregnant mice with no genotype for ASD, as well as heterozygous and homozygous mice. I did this by introducing an environmental stressor for 10 seconds for every 99 seconds without one, as well as reducing the sleep cycle of the mice by 37.5% to ensure less than adequate sleep. I calculated this reduction in sleep length by taking human figures for sleep and then readjusting according to the sleep length of mice. This sleep disruption will occur mostly during the first trimester as this period has the greatest effects on the development of the fetal brain. For measuring early in life sleep disruption in mice, I follow the experimental method presented in the Lord et al. paper by introducing an environmental stressor for 10 seconds for every 99 seconds without one. The environmental stressor for the pregnant mice is the same for the mice in early development.