Go to Polygence Scholars page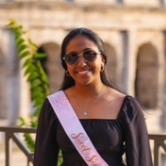 Aliya Nagaria
Class of 2024Toms River, New Jersey
About
Projects
"How can Cirrhosis Secondary to NASH be Related to Bacterial Dysbiosis Alteration of Bile Acids?"

with mentor Emily (June 29, 2023)
Project Portfolio
How can Cirrhosis Secondary to NASH be Related to Bacterial Dysbiosis Alteration of Bile Acids?
Started Dec. 9, 2022
Abstract or project description
Non-alcoholic fatty liver disease ( NAFLD) has become the most common chronic liver disease worldwide. It starts as non-alcoholic steatohepatitis ( NASH), as a benign accumulation of fat, commonly known as "fatty liver", and progresses to inflammation, fibrosis, leading to cirrhosis and possible hepatocellular carcinoma (HCC). Many factors, including diet and genetics, have been proposed for development of NAFLD, however recent studies have suggested gut dysbiosis and bile acids as possible contributing factors.
While the intestinal flora controls metabolism, synthesis, and reabsorption of bile acids, the bile acids control growth and diversity of intestinal flora. Studies have shown that a high fat diet and conditions like Type 2 Diabetes Mellitus ( T2DM), cause change and imbalance in gut bacteria, leading to an increase in bile acids in the liver, further changes to the intestinal microflora, causing increased expression of inflammatory genes, contributing to HCC. It is hypothesized that specific mycobacterial changes in the liver can have an effect on bile acids which could be a probable reason for cirrhosis secondary to NASH.